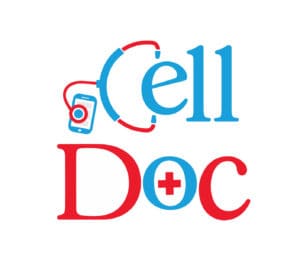 Cell Doc, a recognized leader in cell phone repair, is expanding and opening new locations throughout the country. We provide consistently high quality, yet economical device repair services.
Our goal is to provide state-of-the-art service and repairs not only to consumers, but also to corporations with more extensive service needs.
We Sleep Next to Our Smartphones Too…
Modern smartphones and tablets have become go-to tools that most of us use around the clock, and keep close even when we're sleeping!
Losing the use of a smartphone or tablet can put a major dent in your productivity and quality of life. Having access to a trustworthy smartphone repair service will help you get back to using your device as usual whenever you have an issue.
Tech Problems Frustrating You?
At Cell Doc, we pride ourselves on getting our customers' devices back in action ASAP, because we know how frustrating it is to be without your phone or other device.
Our focus is three-fold: top notch repairs, extremely fast turnaround times, and excellent customer service. Whether you have the latest iPhone 5S / 5C, 6, 6 Plus or any kind of Android smartphone and/or tablet including older models, we can help your device with whatever is ailing it.
What – Specifically – Can We Do?
Our repair services cover glass and LCD replacement, water damage, headphone jack replacement, home button repair, battery replacements and much more. We list many repairs we do for each device in our repairs section. Find your device here.
Just bring your device to our nearest walk-in repair location; we do most repairs in less than 30 minutes. Alternatively, you can book an appointment here.
With over 10,000 smartphones and other devices repaired by the expert technicians at Cell Doc, we've honed our craft to make your experience fixing your device as painless as it can be.
At Cell Doc, there's no waiting and the doctor is always in!
Cell Doc is a majority owned subsidiary of EC Mobile LLC
Feel free to contact us here.